In
Kitab Kahani
, Yasir Javvad pulled off a modern cultural history of Lahore from the standpoint of young Marxist foot soldier struggling to deal with the loss of love, his weakening family structure and an onslaught of neoliberal economics almost crushing the working classes in an unequal Lahore at the turn of the century.
It is a big and ambitious but controversial book, probably the first one where he deployed his imaginative faculties fully, taking a break from his successful career in translation where you get to stay loyal to the actual text. Once he freed himself to write literature, he could not successfully rein in his bitter, brutal tone. It sounds refreshing in the beginning, but by the end the book, jarringly sounds like a witch hunt to settle scores with the enemies he made in abundance during his extremely busy multiple careers in journalism, translation work and inside his struggle in left-leaning movements.
In his work we find a range of colourful and larger-than-life characters (critics, poets, artists and political workers) that he discusses, essentially from the Pakistani left movement, who survived the long and brutal martial law of Zia, the demise of the Soviet Union and the sudden crashing of their intellectual worldview while braving an extremely corrupt and unkind publishers' mafia in Lahore which was expert in exploiting writers without any remorse and moral responsibility. And yet, these fighters had the heart to share a drink or be part of endless tea sessions in Anarkali, continuing the long surviving tradition of literature and cultural expression, making Lahore the city it is: where an absolute beauty and inequality live side by side and negotiate life by wit and
juggut
!
Yasir is from a slightly younger generation of writers, growing up in the 1980s, just at the time when most literary greats of the 1950s and '60s – Munir Niazi, Munoo Bhai, Intezar Hussain and Mustansar Tarar – had started growing old, still coming to Pak Tea House occasionally but engaging only with their own mates. Their prime had passed, the film industry of the 1970s had given way to more violent and louder Punjabi cinema, the progressive spirt of the past had gone and their world had crashed.
The hanging of a popular political leader and the brutal subjugation of PPP with a prolonged martial law had taken its toll on them, a mood similar to this Arshad Waheed ably documented in his two novels
Guman
and
The Other Days
. These people had sustained the 11-year-long state persecution of political workers, including torture – if you read Agha Naveed's biography, published by another great resistance scholar of the time Furrukh Sohail Goindi, you will not be able to sleep properly, thinking of Naveed's ordeal at the time!
That is when Yasir's generation was still growing up at the back of this major political tragedy and were at their prime in 1990s witnessing Benazir Bhutto's govt rekindling the hope but crashing too soon and replaced by post Zia's relatively large right wing this time aligned with traders with Pakistani establishment increasingly emboldened by the fall of Kabul and in their own limited but self-satisfying world view ended up dismissing four democratic governments while venturing into Kargil too by the turn of the century. Of course, these grand and unrealistic geostrategic projects did not do much for the reality of young people's lives in Lahore in a tanking economy. It was in such an environment that Yasir Javvad and the likes of him were trying to survive with meagre means amidst a dysfunctional large family system, while clinging to his ideological comrades meeting secretly in Mochi Darwaza for study circles and thinking how to convert this ignorant large, unorganised mass of people into a revolutionary movement.
Beyond the rage, tone and the politics of the book, there are large sections in the writing which actually are his great contributions to literature. The city of Lahore actually produces some unique characters
Still, many in the literary mainstream will not like this book. Yasir is brutal and extremely judgmental, with the observation of a film scriptwriter. Almost with everyone he meets, he can tell what they wore, how they used their facial expression and what was the was tone of their voice in his hilarious and practiced prose – while demonstrating a great command over the language he used and sometimes created.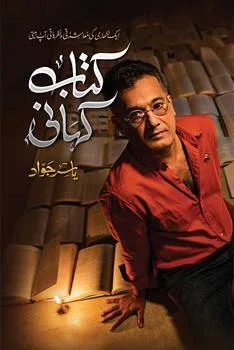 He shows no mercy for major literary figures of our time like Najam Hussain Syed, Asif Furrukhi, Hameed Shahid, Dr Anwar Ul Haq, Kishwar Naheed and even Iftikhar Arif, who was his mentor, too. The repeated and sometimes crass judgements page after page make you wonder as to what Yasir wants to actually establish here. People, big or small, can have flaws, which actually make them humans. Why would you show so much anger when they also had faced similar struggles as you faced? Afterall, we lived in a century where people survived the holocaust, apartheid, slavery and long periods of oppression – and many of them still stayed reasonably kind and less bitter!
But to be fair with Yasir, he could not have gone beyond the episteme of the Punjabi left, where despite appreciation of high culture and finer things in life, ideologically, all that the left could muster was a bitter commentary of ideas for its own people – as if they want to treat them as mere objects needed to bring revolution. No wonder this kind of culture did not produce any empathy, even for fellow comrades! Once market ideas were embraced or donors support arrived in newly formed NGOs, many focused on their own self-actualisation rather than looking after their fellow activists in the resistance.
Those left out from the seismic changes in the economy and politics felt left out. The anger and the deconstruction project that Yasir embraced as a result became his weaponry: fighting to survive in a weakening family structure and an unjust publishing market with no support system offered by the cultural elite of the city, who were quick to switch sides to the neoliberal economy represented by market, donors and new political alignments.
Faiz-themed events, once presented to represent workers' struggle are now fully corporatised and branded – with new donors and corporate money operated by Faiz's family, who are themselves comfortable to teach at business schools and get along with one political government after another. Could not they or others – like the more posh elements of the left closely aligned with workers struggling to keep their head above the water – at least try to find some kind of dignified ways of earning?
Beyond the rage, tone and the politics of the book, there are large sections in the writing which actually are his great contributions to literature. The city of Lahore actually produces some unique characters that probably no other city can produce. You can still find devoted grassroots Marxists with no hope left for the revolution but soaked in politics, poetry, Punjabi language movements, street theatre and study circles with a brand of irreplaceable Lahori wit and a confidence you do not find even in Ivy League graduates!
You have taken your revenge, Yasir. Now stop judging people too harshly. They deserve the same kindness which you wanted from them. All of us deserve empathy
Yasir fondly introduces Mooda, a 24/7 devoted conversationist with a grip over philosophy, a mentor and an interpreter for life but eccentric to the core, a lifelong bachelor but would counsel so many married people, guiding them on how to still protect their relationship. Mooda's brother Soodiyan, a practical businessman, is equally articulate in explaining that Mooda's revolution would never come and that a labourer or a cobbler at his job starting early morning are better than these revolutionaries who actually were asleep during the daytime under the influence of locally-made drinks, while spending another night in deciphering Marx (even discussing one more time that the real theoretician was Engels) and discussing all poets from Bulleh Shah to Shah Hussain to the relevance of local shrines in connecting people.
As an author, Yasir is at his best here, with hilarious and detailed building of one character after another, successfully creating a true creative non-fiction appeal with such quality of narrative that you cannot put down the book, making it extremely readable, a quality many recent biographies lack.
The sad bit for the Pakistani progressive left in the 1990s was to see a systemic replacement of progressive politics with urban traders in alignment with the political right and emboldened by the heady years after the Soviet fall. There was this triumphant euphoria in Pakistani generals leading to the surge in Kashmir Jihad without caring to build the state in Afghanistan first. Such a euphoria inside the psyche of the Pakistani establishment had to end in a disaster. The staged calm of the 1990s gave way to strategic blunders like Kargil (well documented by the important but less celebrated book of Nasim Zehra), followed by almost 20 years of prolonged and protracted crises in the post-9/11 world, with a level of bloodshed on Pakistani streets not seen even in our wars with India.
Left and progressive politics in all these years was further suppressed (at a micro level like Yasir Javvad in trying to make both ends meet) and at a macro level with the dismissal of PPP's first and second government in 1999 and 1996 and the breaking of PPP into PPP parliamentarians in 2002 and finally the assassination of Benazir Bhutto in 2007. On that day, Yasir says the he was also in Pindi, witnessing it all alone, amidst the tasteless culture of Rawalpindi and Islamabad and away from someone like Mooda who could have explained that better to him in their favourite Anarkali Bazar. That, after all, was symbolically the last den of progressive political workers at a public place where, at least, you were less lonely – surrounded by all these crazy characters, who Yasir says could be part of any novel or a movie.
It is true that his tell-all book is a revenge against the cultural establishment of the left and the callous state too, which deprived these young promising people of the 1990s through its dysfunctional education system and almost no support system to nurture their talent. Any other country with a translator of over 100 books would have rewarded him differently.
But what is the larger point of the book? Yasir – and for that matter his fellow comrades – survived the 1990s, kept advancing their arguments through books, journalistic work and political mobilisation. They were fighting all alone against the violent right-wing in campuses like Punjab University or negotiating the space with the state and winning the argument against militancy and extremism eventually. But in the process they have slowed down while reaching a middle-class affluence, limiting themselves to a social club of thoughtful people, meeting over drinks produced in Pakistan's secret breweries, whose products are distributed by their trusted bootleggers. They are still bitter and angry with their people – as is Yasir.
The revolutionary struggle is now picked up by affluent LUMS professors or those with PhDs from places like SOAS, whose activism is very well celebrated abroad, with occasional fellowships and talks in literary festivals. The heart and soul of the left, however, are people like Mooda, Aamir Riaz, Diep Syeda or Farooq Tariq – more rooted and better grounded. A new reconciliation needs to happen between the Pakistani left and the PPP too, because so much is at stake: the environment, workers' protection, freedom of the press and even democracy.
With this brave new agenda at hand, Yasir should calm down now.
You have taken your revenge, Yasir. Now stop judging people too harshly. They deserve the same kindness which you wanted from them. All of us deserve empathy. That is probably the first revolution, that one needs to bring within oneself: to approach life differently. And this is a lesson that one hopes the Pakistani left would do well to learn too – because they still have so much to offer to Pakistani politics and culture.