The summer heat is blazing in a way that could eviscerate not only the joy and fun out of an average person's life, but also the will to step out of the house. I, for one, try to escape the morbid ordeal of stepping into the 35-degree heat for anything other than work. But what
do
you have at hand when you're basically held hostage inside the house by the heat wave? Do you risk going out and coming home with a comical sunburn? Or rewatch the same
Grey's Anatomy
season for the nth time? Well, that is where I introduce to you the ultimate summer readings list across a wide variety of genres – from cheesy romances to thrillers and mysteries, and everything beyond and in between.
The Hating Game
(Sally Thorne)
"I have a theory. Hating someone feels disturbingly similar to being in love with them."
This striking romantic comedy has equal parts workplace rivalry, witty banter, and a slow-burn romance. A striking undercurrent of emotions is aptly highlighted by equal blends of bickering and flirtations. Lucy Hutton and Joshua Templeman, are two coworkers who share an intense mutual dislike for each other. As executive assistants to co-CEOs of a publishing company, they find themselves competing for the same promotion. The verbal sparring and the romantic and sexual tension
do
make for a read that will have you kicking your feet and giggling. If you're looking for a light-hearted and charming summer read that does romance
well?
This is your book to go to.
Cleopatra and Frankenstein
(Coco Mellors)
"When the darkest part of you meets the darkest part of me, it creates light."
In this philosophical romance between Cleo, a beautiful, British artist that struggles to hold together her life, meets Frank, an older, handsome advertising executive almost 20 years her senior on New Year's Eve, love doesn't bloom – it ignites. There's wit, excitement, and palpable tension. This serendipitous meeting leads to a novel that spans these two, and their relations with the ones around them– mostly painters, designers, heirs– the privileged. All of them yearn to find the
truth
to life, and the purpose behind love, compatibility and harmony with fine aesthetic details that melt across your form and captivate. The perfect romantic summer read that is deeper than your casual romantic read.
It Happened One Summer
(Tessa Bailey)
"If this woman tacked the word "please" onto any request, he would find a way to fulfil it. Build me a palace, please. How many floors, baby?"
This scorching summer romance follows Piper Bellinger, a wealthy Los Angeles socialite who finds herself stranded in a quaint coastal town after a spat with her stepfather– where she meets the brooding, serious, Brendan, a rugged ship captain. The dialogues crackle and ooze with chemistry and wit, and follow the journey of two complex characters finding their own pathway in life. Tenderness and passion infuse the narrative, all of which make this a worthy summer read. And if you end up loving this as much as I do, make sure to read the independent sequel–
"Hook, Line and Sinker."
The Vegetarian
(Han Kang)
"The feeling that she had never really lived in this world caught her by surprise. It was a fact. She had never lived. Even as a child, as far back as she could remember, she had done nothing but endure."
This haunting novel delves into the complexities of human desires, societal norms, and the unravelling of one woman's life. Set in South Korea, the narrative revolves around Yeong-hye, an unremarkable woman whose life takes a dramatic turn when she decides to become a vegetarian. As her refusal to consume meat challenges the deeply ingrained traditions of her family and society, it leads to a series of events that expose the suffocating constraints of societal expectations. However, some readers might find the narrative to be disconcerting and ambiguous at times, and scenes of violence and emotional turmoil might be triggering for sensitive readers. Apart from that, it is a must-read for its evocative exploration of identity.
A Certain Hunger
(Chelsea G. Summers)
"Few women come into maturity unscathed by the suffocating pink press of girlhood, and even psychopaths are touched by the long, frilly arm of feminine expectations. It's not that women psychopaths don't exist; it's that we fake it better than men."
This gripping novel dares to push the boundaries of traditional storytelling– with unapologetically dark humour and raw exploration of desire, this thrilling journey explores the mind of Dorothy Daniels, a successful food critic. Beneath her glamorous and sophisticated exterior, she craves the taste of human flesh. As Dorothy navigates her world, she finds herself entangled in her obsession, leaving a trail of victims in her wake. Dorothy's unapologetic pursuit of her desires makes her an enigmatic and morally complex protagonist. If you're looking for a book that delves into the darker complexities of morality, "
A Certain Hunger
" is a must-read for its bold and unflinching storytelling.
Crush
(Richard Siken) 
"Is that too much to expect? That I would name the stars
for you? That I would take you there? The splash
of my tongue melting you like a sugar cube?"
"Crush" by Richard Siken is a collection of poems that takes readers on a profound journey of violent eroticism and apocalyptic desire. The language is both tender and brutal, capturing the fragility and intensity of the human spirit. Each poem feels like a confession, laying bare the vulnerabilities and complexities of love. The themes explored in "Crush" are universal and timeless. If you're looking for a collection that delves into the depths of human emotion and leaves you with a lingering ache in your heart, "Crush" is an absolute must-read.
Persepolis
(Marjane Satrapi)
"I learned that you should always shout louder than your aggressor."
"Persepolis" by Marjane Satrapi is a poignant and powerful graphic memoir that takes readers on an intimate journey through the tumultuous history of Iran and the resilient spirit of its people. With its evocative artwork and candid storytelling, this graphic novel leaves a profound impact on the reader, offering a unique perspective on the complexities of growing up in a time of revolution and war. The memoir is set against the backdrop of Iran's Islamic Revolution and subsequent Iran-Iraq War. As she navigates her way through adolescence, readers witness her transformation from an innocent and spirited child to a young woman grappling with questions of identity, faith, and freedom. If you're looking for a graphic novel that weaves together cultural heritage, family bonds, and the complexities of life under a repressive regime, Persepolis is a must read.
Revolutionary Pasts
(Ali Raza)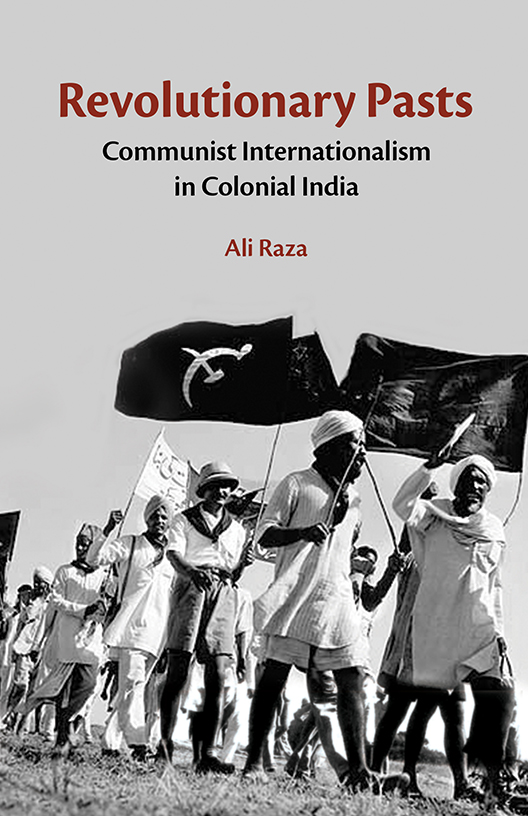 "The utopian imagination had the power to drive men and women to incredible, astonishing, and even suicidal lengths."
In this engaging and innovative history of the communist movement in colonial India, Ali Raza reveals the lives, geographies, and anti-colonial struggles of Indian revolutionaries and how they sought to remake the world. It is a read choke-full of the sociopolitical stances pre- and post-partition, and how they framed the Left into what it is today. It maneuvers through the struggles of these revolutionaries as individuals and as a whole and poses the question of colonialism, its after effects and the journey of decolonization. It is a wonderful read that discusses the part of history we too often forget.
Letters to Vera
(Vladimir Nabokov)
"It is late now, I am a bit tired; the sky is irritated by stars. And I love you, I love you, I love you – and perhaps this is how the whole enormous world, shining all over, can be created – out of five vowels and three consonants."
"Letters to Vera" offers readers a rare and intimate glimpse into the mind and heart of one of the 20th century's literary giants, Vladimir Nabokov. This collection of letters, written to his beloved wife Vera, spans several decades and provides a compelling portrait of their enduring love. The correspondence covers a wide range of topics, from personal anecdotes and humorous musings to profound reflections on the craft of writing.  If you're looking for a book that offers an intimate glimpse into the life of a literary mastermind and the love that fueled his brilliance, "Letters to Vera" is a must-read for its profound insights.
The Seed Keeper
(Diane Wilson)
"Some seeds need fire to sprout. What if you're that seed?"
"The Seed Keeper" by Diane Wilson is a poignant and captivating novel that weaves together the past and present, exploring the legacy of seeds and the interconnectedness of generations. The novel follows the journey of Rosalie Iron Wing, a Dakota woman living in present-day Minnesota, who becomes the keeper of her family's precious heirloom seeds. As she grapples with the weight of this responsibility, the story delves into the lives of the women who came before her, each with their own stories, struggles, and love. One of the book's greatest strengths is its portrayal of the unbreakable bonds between women. If you're looking for a book that celebrates the power of storytelling and the enduring legacy of womanhood and love, "The Seed Keeper" is a must-read for its powerful message and beautifully crafted narrative.